We recently toodled down to Port Gamble. An autumn requirement. It is a beautiful town any day of the year but a day in fall is the best. It is made for this season. We went out to walk the trails and discovered two things I never knew were there. (Some of you will have known of these gems for years but many, I am sure, do not). There is a pond complete with ducks, lily pads (some sort of aquatic vegetation) and great photographic opportunities. And my dog, Shiloh, found all sorts of neat smells. And looked great as she is a retriever and was quite at home amongst the tall grasses and waterfowl.
We continued up the trail and ended at the RC airplane field. Awesome. There were boy scouts having a picnic and running around. I imagine this is used quite often for large groups as there is A LOT of space. And it's off the road so it's safe. We were done for the day hiking there so tune in for another blog for the rest of the trail story.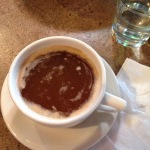 We really went there for the fabulous hot apple cider at the Port Gamble Store & Cafe. And discovered the new wing. I knew they were remodeling but I thought it was just to add a deck and expand their current little cafe. Nope. It was a great surprise. There is now a bar and expanded restaurant offerings. They have local beer, wine and locally sourced food. This new addition has large windows that overlook the passage.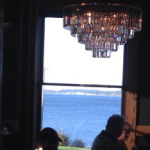 The decor has fancy chandeliers along with saws made into antique bulb, pendant lamps. There is beautiful simple woodwork that hearkens back to the town's history. The lemon meringue cake is gorgeous. I didn't have a piece, but next time they better have it!
The service was great. Friendly but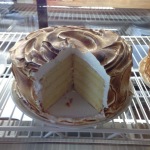 not cutesy (although Snow White did bring me my apple cider…)
I am thrilled for another great dining option in the north end and impressed they finally got some great seating for those wonderful views. It's easy to see it all from the outside, wandering around the great little old mill town.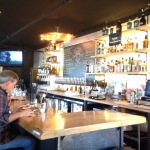 Now you can see it from inside a lovely cafe with a snazzy bar, games on the big screen and old time charm. (The wine cellar is the old Port Gamble Mill vault.) When you're out there, don't forget to also stop in No. 7 Books. Great selection, fun themed rooms. ~Kit Nowles for Kitsap Now
P.S. The bartender is worth going for on his own. 🙂
Find out more on their website HERE.